Athletes that compete in running races and who managed to achieve some good results throughout their careers are often considered to be some of the biggest and most respected names in the entire history of sport. Some of the enjoyed being popular while some of them did not and all they wanted to do was focus on the races. The in the next part of this article we will provide some of the biggest names and some of the most popular runners in different disciplines of athletics throughout the history.
Jesse Owens

The time when Jesse Owens participated in the Olympic games was not difficult only for him but rather for everybody else. His performance at the 1936 Olympic Games that were held in Berlin is more than often characterized as much bigger than athletics and sport in general. In that Olympics, Jesse Owens managed to win four medals (in 100 meter race, 200 meter race, long jump and as a member of USA 4×100 relay team). His performance in these Games was seen as a sign of protest against the propaganda that Nazis had at that time directed against the black people. One year before those Olympic Games, Jesse Owens broke three world records and tied the fourth one. Jesse Owens died in March of 1980. Today, the award that the best track and field athlete is given at the end of each year carries the name of Jesse Owens and somehow it is a testament to his greatness.
Florence Griffith-Joyner

Florence Giffith-Joyner is often called the fastest woman ever. This is mostly because she was the only woman in history to hold the world record in both 100 meter and 200 meter race. This success came at the 1988 Olympic Games that were held in Seoul, South Korea. These two world records were also two gold medals at those Olympic games. Besides those two gold medals, she managed to win the third won in the 4×100 relay race. She dies back in 1998 but her achievements and records are still alive and present. Even to this day, Florence Griffith-Joyner still remains as one of the most popular women athletes ever.
Haile Gebreselassie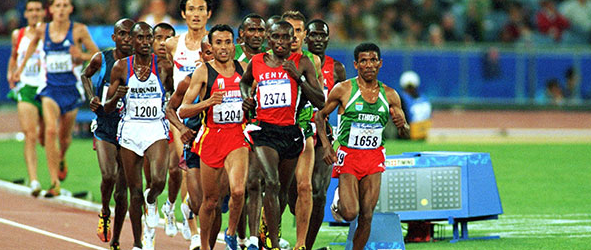 There are no words that can describe the success that this Ethiopian runner had throughout his career. Throughout his career he managed to win two gold medals in 10,000 meter races in two different Olympic Games. However, perhaps his greatest success of his career is the fact that he managed to win in the Berlin Marathon for four consecutive years as well as winning three years in a row in Dubai Marathon. Haile Gebreselassie will most definitely go down in athletics history as well as the history of the sport in general as one of the greatest athletes ever.
Carl Lewis

One of the most popular runners of all times is most definitely Carl Lewis. The man who participated in 4 different Olympic games deserves nothing less. In those 4 Olympic Games, Carl Lewis managed to win 9 Olympic gold medals. Besides that, he also has the 8 gold Medals from the World Championships and because of that the International Olympic Committee chose him for the Sportsman of the Century and it was well deserved.
Allyson Felix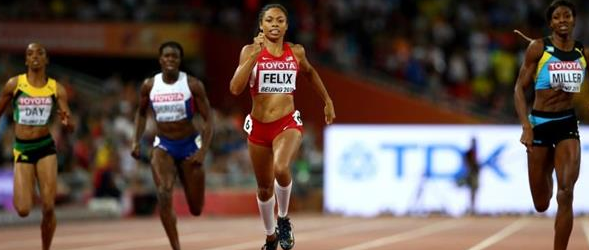 Since 1998, no woman athlete managed to do what Allyson Felix did in the 2012 Olympic Games that were held in London. In those Olympic Games she managed to win three Olympic Gold medals in races that included 200 meter, 4×100 and 4×400 relay races. Besides those three gold medals she also has another gold medal from the 2008 Summer Olympic Games in Beijing where she also won gold medal in 4×400 relay race.
Usain Bolt

Talking about popularity of runners is pointless without talking about the popularity of Usain Bolt. The Lightning Bolt, as Bolt is often called, is the fastest man alive and he probably go down in history as such because his records seem to be unreachable. He was the first man ever to hold the world record in 100 meter and 200 meter race at the same time. He is also the first athlete ever to be the winner of 6 Olympic Gold medals that he won in previously mentioned disciplines and in 4×100 relay races. His sportsmanship as well as his behavior in the race as well as off the race track make him the greatest ever that went through the finish line.